Thermally Efficient
The chamfered and square bead options we use within the profile of our aluminium bi-fold doors help the warmth stay within your Cardiff home. The advanced thermal barrier technology we use will provide superior heat retention to your property, aided with the double glazing used within the bi-fold doors. The doors are so successful in being thermally efficient that they have been given a U-value of 1.7. With all this in place, the Cardiff customer may find themselves relying less on their central heating which could, in turn, save them money on their energy bills and reduce their carbon footprints. Even loud noises will be kept outside your home thanks to the glazing in our bi-fold doors.
Weathertight
Our bi-fold doors have been designed to keep the harsher elements of the Cardiff weather outside your home. At no point with these doors will you experience cold draughts or rain coming in unless you have opted to do so through leaving the door open. Our doors have been tested to withstand strong winds, with a rating of AE2400 and withstand rainfall of 600Pa, so you can live your life peacefully with the knowledge that your home will be protected.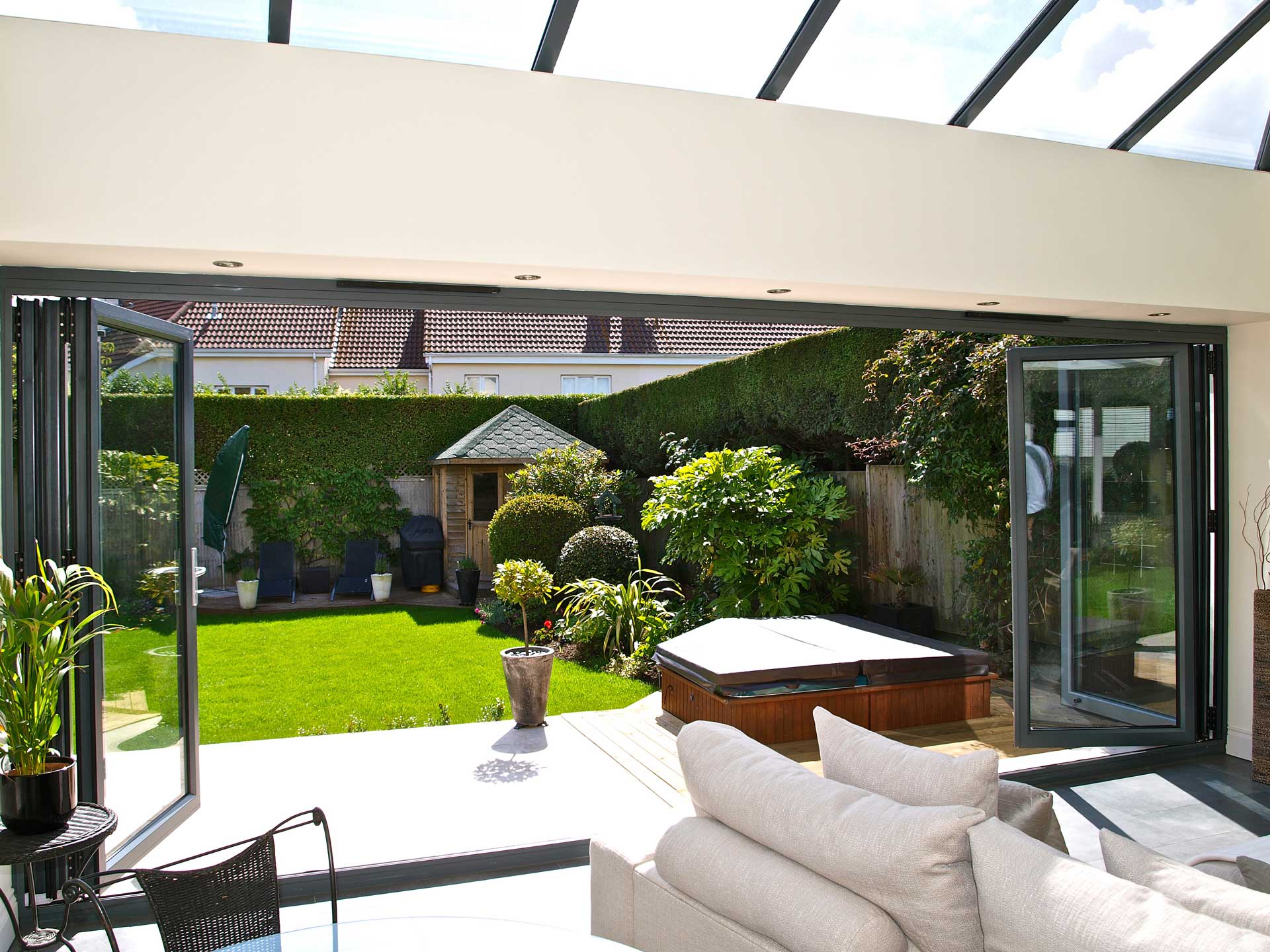 Low-Maintenance
When you purchase a new aluminium bi-fold door, the last you think you want to worry about is whether the product will require a lot of your time to maintain. Our aluminium bi-fold doors are smooth to operate, with the sturdy and reliable sliding mechanism meaning they won't break. All our colours and finishes come with years of service guaranteed. All this product will require to stay looking as 'good as new' is a simple wipe down with a damp cloth.
Complete Flexibility
We put our Cardiff customers in the driving seat when choosing their aluminium bi-fold doors. Our bi-fold doors are designed to give the customer the perfect look that will complement their home. Bi-fold doors come in configurations, with the number of leaves within that configuration completely up to the customer. Cardiff customers can choose from a flush line pop-out handle or other handles, dual colour options for inside and out, as well as a variety of accessories to make a bespoke bi-fold door for their home. Our bi-fold doors are available in a multitude of colours, from the standard range to the full RAL spectrum, as well as powdered coatings, giving your door the right finish.